News
Feb. 2, 2017
BLM hosts meeting on South Pass planning
The Bureau of Land Management will host a public meeting Feb. 7 at the BLM Lander Field Office to gather input on interpretive and management plans for public lands in the South Pass area. The meeting will be held from 5 p.m. to 8 p.m.
Based on public input the BLM has identified improving visitor awareness and appreciation of cultural heritage as a priority for visitor services. Special emphasis will be placed on area sites that are important to historic mining, like Miner's Delight.
The meeting will give people the opportunity to weigh-in on their priorities for the area and how they recreate in the area.
"BLM projects are most successful when they involve public participation and partnerships," said Kristin Yannone, BLM planning and environmental coordinator. "There will be future opportunities for participation in South Pass area projects, but this is an important first step."
Written comments will be accepted during or following the public meeting.
For more information about the planning, contact Yannone at 307-332-8400 or kyannone@blm.gov.
Check out the
Wyoming Prospectors Association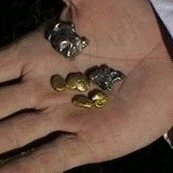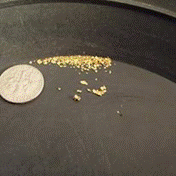 Wyoming Prospectors Association is a group of folks who mine
gold and other precious minerals in Wyoming. We hold 10 club meetings a year.
"Great family club, great way to get outdoors!!" --Misty Lansberry, club member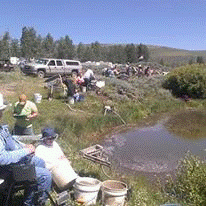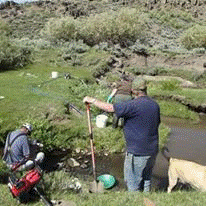 For more information contact the club,
or visit our website and "Like" us on Facebook.
Website: http://wpagold.com/ (Download an application here)
Our FB Page: https://www.facebook.com/WyomingProspectorsAssociation/ (see what's happening here)
Wyoming Prospectors Association~P.O. Box 1269, Riverton WY 82501
Email: wypagold@wyoming.com or wpasecretary1849@gmail.com
Glenn Lansberry: 307.875.4110(current President) Deb Palmer: 307.857.6179 (current Treasurer)
Date 03/25/15
Added new links for those who still want to keep up with our friend DAN HAUSEL. Check the Links Page near the bottom
Release Date: 09/09/11
BLM Releases Lander Draft RMP and EIS for 90-day Comment Period:
Public Commenting Workshops Scheduled

The Bureau of Land Management (BLM) today released the Lander Draft Resource Management Plan (RMP) and Draft Environmental Impact Statement for future management of public lands in the Lander Field Office area.
The 1,700-page document contains a series of management alternatives, including a preferred alternative, designed to address challenges and issues raised during public comment periods including recreation, areas of critical environmental concern, greater sage-grouse habitats, livestock grazing, energy development and units of the National Landscape Conservation System.
Alternative A: Continues existing management practices (no action alternative);
Alternative B: Emphasizes conservation of natural and cultural resources while providing for compatible development and use;
Alternative C: Emphasizes resource development and use; and
Alternative D: Provides development opportunities while protecting sensitive resources (preferred alternative).
Project Lead Kristin Yannone stresses that commenting on the alternatives is important. "The preferred alternative is not a final agency decision," said Yannone, "but its identification lets people know the direction the BLM is leaning. We will make adjustments to the preferred action based upon the comments we receive, particularly to those areas the public identifies as requiring additional management actions."
The document can be found online at www.blm.gov/wy/st/en/programs/Planning/rmps/lander.html and hard copies are available for review at public libraries throughout Fremont, Natrona and Sweetwater counties and at the Lander Field Office and the Wind River/Bighorn Basin District Office in Worland.
Comments should be submitted by Dec. 7, 2011, using the following methods:
E-mail: LRMP_WYMail@blm.gov
Mail: Lander Field Office, Attn: RMP Project Manager, 1335 Main Street, Lander, WY 82520
"The new RMP will guide BLM management of public lands for approximately twenty years," Yannone said. "Input from the public will help ensure the broadest possible support for the RMP."
Changes made in response to public comments will be included in the proposed RMP, scheduled for release in 2012.
The BLM will host several public commenting workshops and public meetings during the 90-day comment period. The commenting workshops, to be held Sept. 19-21, will focus on how to formulate effective comments and will feature a presentation and question and answer session about commenting and navigating the document.
COMMENTING WORKSHOPS

Date and Time

Location

Monday, September 19, 2011
4-7 p.m.
Best Western
Wind River and Fremont Rooms
260 Grandview Drive
Lander, WY 82520
Tuesday, September 20, 2011
4-7 p.m.
Holiday Inn
Taggarts Room (Rooms 1 and 2)
900 East Sunset Drive
Riverton, WY 82501
Wednesday, September 21, 2011
4-7 p.m.
Headwaters Arts and Conference Center
Wind River Room
20 Stalnaker Street
Dubois, WY 82513
Public meetings will be held Oct. 24-28 throughout the Lander Field Office area to provide additional opportunities to speak with BLM staff regarding the document. For more information about the meetings and the Lander RMP revision project, visitwww.blm.gov/wy/st/en/programs/Planning/rmps/lander.html or you may contact Yannone at 307-332-8400.